Welcome to our Year 6 Class Page :)
Year 6 is one of the most important years of your primary school journey. It is a year in which you will have greater responsibility around the school, a year full of memorable events and a year where you will prepare for life's next big steps. In the light of Christ, together in Year 6 we will continue to grow, learn and celebrate our learning.
In Year 6 we have:
Class Teachers - Miss Caulfield, Miss Varlet & Miss Nicholson
Support Staff - Mrs Shea, Mr Fakes, Mrs Leach, Miss Senior & Miss Carroll
Tuesday 4th April - Maths Revision
We took our Maths learning outside today in the glorious sunshine. We were put into groups and had to solve some open-ended word problems, finding all the possible answers. Once we finished, we swapped with another group and checked their answers.
Monday 27th March - Reconciliation Service
Today, Year 6 had their Reconciliation Service in Church which was led by Father Polland. The children read beautifully and reminded us of the real reasons of Advent. We had time to reflect on our own lives and the mistakes we might of made.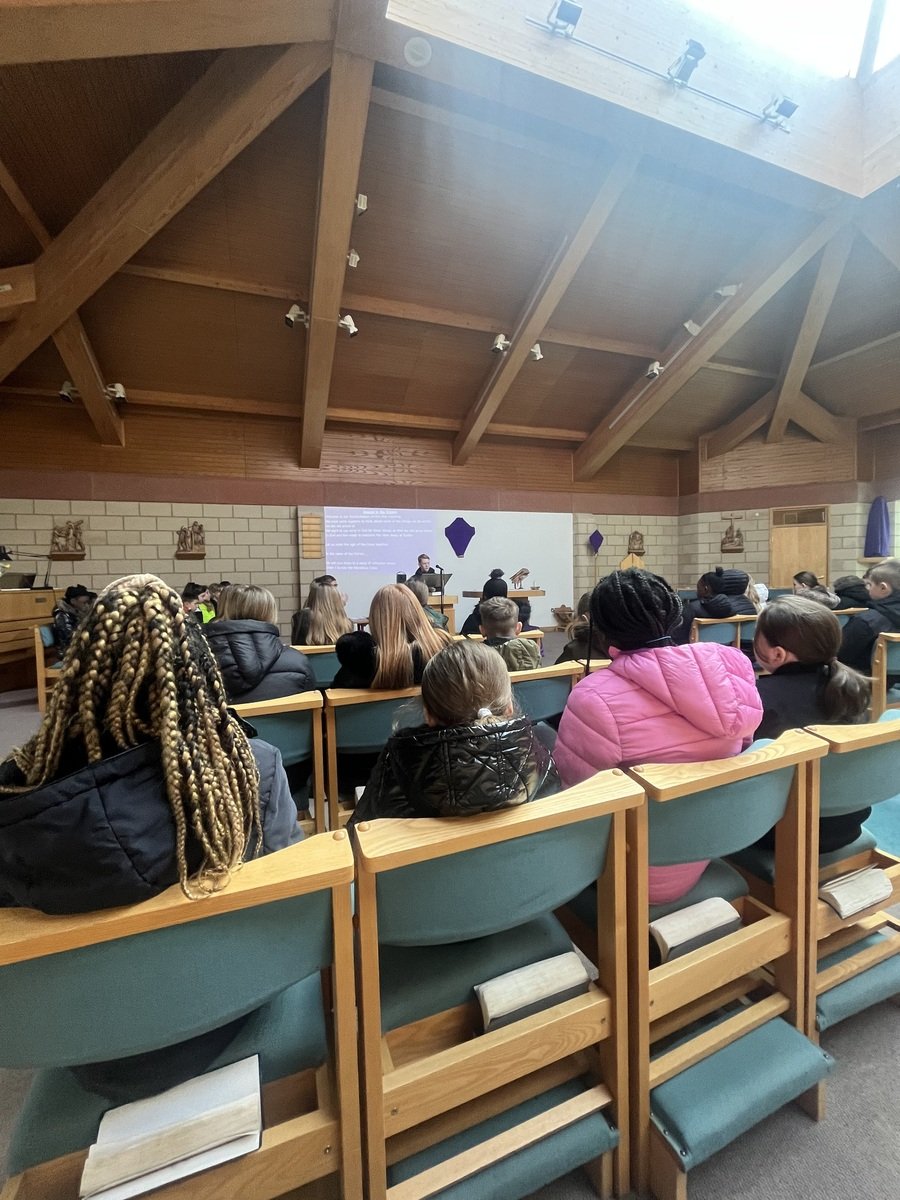 Thursday 23rd March - God and The Big Bang
Year 6 had a great day with our visitors from God and The Big Bang.
They spent the day exploring how Science and RE can work together when thinking about how the world was created
Some great discussions were had which led to some inquisitive questions from our Year 6 children.
Thursday 2nd March - World Book Day Writing
During World Book Day, we focused on the Brother's Grimm book which is full of the original fairytales - a little bit different from the traditional tales we know! After reading the Brother's Grimm version of Cinderella, we spoke about how the original fairytales differ and explored the style of writing used. We at how the orginal fairytales have evolved over time including looking at The Revolting Rhymes by Roald Dahl. The children then went onto write their own alternative ending to Goldilocks & The Three Bears using the Brother's Grimm style of writing as inspiration. At the end of the day, we created a suspenseful atmosphere and read our alternative endings to each other.
Thursday 2nd March - World Book Day 2023
Today we celebrated World Book Day. The children came to school dressed as their favourite book character and put lots of effort into creating these. Take a look below at our fantastic outfits:
Thursday 23rd February - French Penpal Cards
What an exciting afternoon Year 6 have had today! We received our 'Happy New Year' cards from our French penpals. We LOVED reading them and learning lots of new interesting facts about our French buddies. We spent the afternoon writing cards back in French with lots of fun facts about ourselves. We can't wait to receive our next set of cards and learn lots more about our French buddies.
Monday 23rd January - Leeds United Workshop
We were very lucky to have a member of the Leeds United Foundation come into school to deliver the Primary Choice Workshop. In aid to support transition to high school, we explored how we can make the right choice and the consequences of making a bad choice. Three of our Year 6 children that stood out during the workshop we awarded a Leeds United scarf - how cool!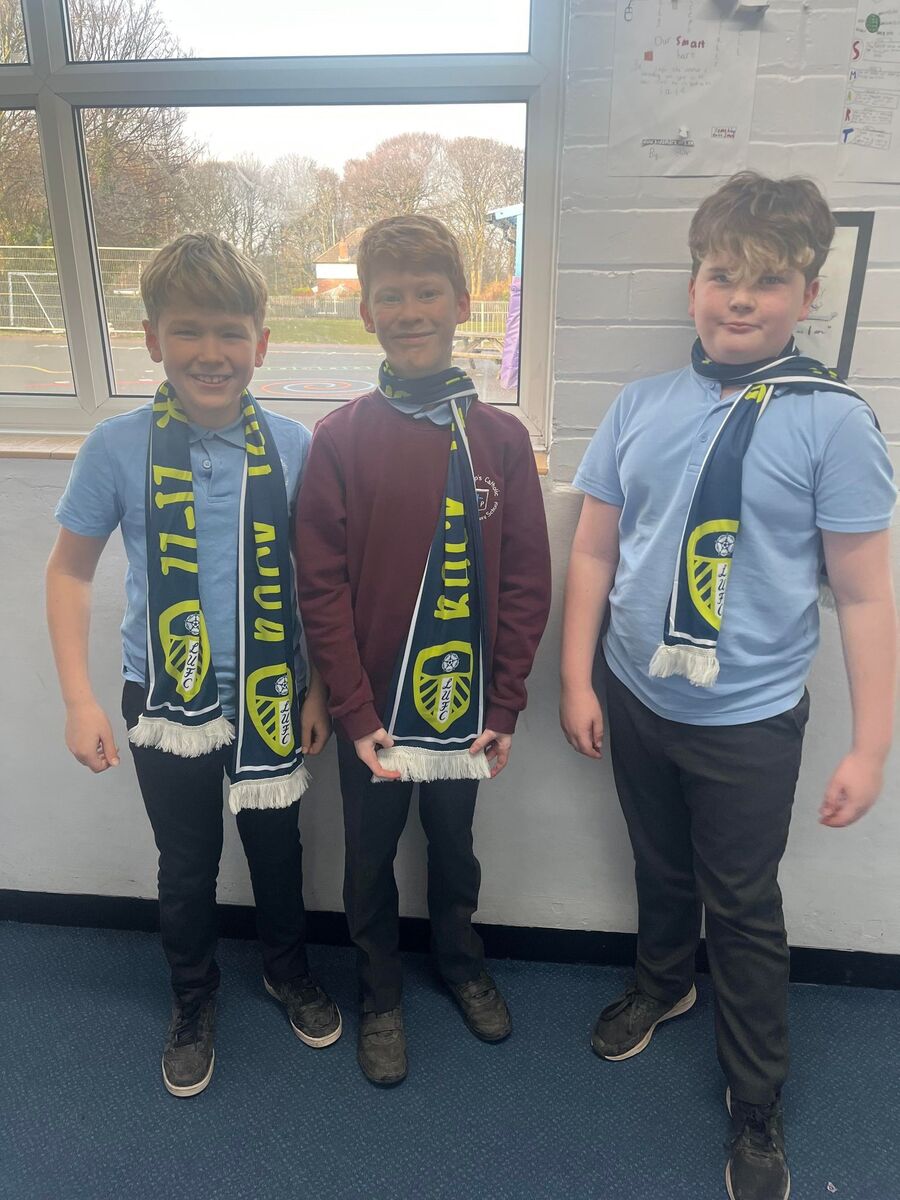 Friday 20th January - RE Lesson in Church
As part of our RE topic, Exploring the Mass, we need to be able to understand the important symbols and signs in Mass. On Friday, we went into Church where Father Polland explained what each step in Mass signifies and what objects are important in Mass. This led us to think about a very important question: What part of Mass do you think is the most important and why? The children worked together to create PowerPoints explaining which part of Mass they thought was the most important and explained why they thought this.
Thursday 19th January - Jesus the Bread of Life
Today in RE, we explored the meaning of Jesus being the Bread of Life. After looking at scripture from the Bible, we analysed what Jesus meant when he said:
I am the Bread of Life,
He who comes to me will never be hungry;
He who believes in me will never thirst.
John 6:35
After spending time discussing what Jesus meant by this, we got our creative side on and made our own videos explaining this. We LOVE creative RE and expressing our knowledge using drama.
Tuesday 16th January - Science - Trip to Magna
As part of our Science topic - Light - we visited Magna Museum in Sheffield. We had a fantastic time exploring the 3 different pavilions (Fire, Water & Earth) and learnt lots of interesting facts from our Light workshop.
Thursday 12th January - Geography - Exploring where The Amazon Rainforest is located!
In Geography we have started exploring our new topic - The Amazon Rainforest. We used atlases and maps to look at which continent the Amazon rainforest is located in and which countries it runs through. We learnt that The Amazon lies in 8 different countries; however, the majority of it is situated in Brazil taking up 40% of the country's land. From our findings, we used playdough to create our own maps of South America, highlighting where the rainforest and Amazon river lay.
Friday 25th November - 6EC's Class Assembly
6EC delivered a beautiful class assembly based on Justice. They taught us all about the influential figures who stood up for fair and equal rights and have changed they world we live in today.
Tuesday 22nd November - Antibiotics Session
The school wellbeing team came in to visit Year 6 this week to raise awareness of promoting good health. They discussed how we look after ourselves and explored the safe use of antibiotics.
Thursday 17th November - Music Genre Week
As part of Music genre week, we focused on the Indie. We explored what Indie meant and the instruments usually used in Indie music. Our chosen song was 'What You Know' by Two Door Cinema Club. Take a look below at our spectacular performance in assembly.
Monday 14th November - Judo Taster Sessions
Hajime Judo Club came into school to deliver Judo Taster Sessions.
We learnt lots of new skills and moves, including how to safely practise these.
Friday 11th November - 6AV's Class Assembly
6AV delivered a beautiful and informative class assembly on WW2 and Remembrance Day. They reminded us of all those who bravely fought in the war for our country. We remember those we lost during Remembrance Day.
Bike Ability - Monday 31st October - Friday 4th November
This week, we completed our Bike Ability Level 1 & 2. We learnt how to ride a bike safely on the road, including practising a variety of different turns in which we had to follow the safety procedures of looking and signaling.
Eden Camp - Friday 14th October
We had a fantastic day at Eden camp learning the history and facts of WW2. We got to understand why the war started and experienced what it may of been like to live through the war including rationing, evacuation and the blitz. We took some time at the end to reflect upon what we had learned and to say a prayer during the chapel.
Volcanic Art - Friday 7th October
In our Geography lessons this term, we have been learning about volcanoes and earthquakes. Today, Year 6 created their own volcanic paintings based on natural disaster artwork produced by Nick Rowland. We used different techniques with the paint (flicking and blowing) to create an eruption effect. Take a look at us in action below:
Mount St. Mary's Taster Morning - 29th September
Year 6 had a fantastic morning at Mount St. Mary's this week exploring lots of different lessons including PE, Science and DT.
Buddy Park Trip - 27th September
This week, Year 6 took a trip to the park with their Reception buddies. This was a great way for the Year 6's to get to know their buddy and have lots of fun playing together! We cant wait to do more things with our Reception buddies this year.
Take a look at the picture below to see what a great time we had:
Robinwood - 12th September
We had the most amazing time on residential at Robinwood! We completed lots of challenging activities, in which some us may of faced our fears. However we demonstrated how resilient, brave and determined we were to complete the challenge. Miss Caulfield, Miss Varlet, Mrs Shea & Mr Fakes are immensely proud of each and every one of you! Take a look at our Robinwood videos which summarises how much fun we had:
Meet the Teacher - September 2022
Thank you to all of those who attended our Meet the Teacher meeting - it was lovely to see so many faces. If you were unable to attend or would like to refer back to any of the information, please see the PowerPoint below. If you have any further question, please do not hesitate to ask. We look forward to working with you and your child this year.